The epic Sergio Leone flick kicks off with bad man Henry Fonda killing an entire homestead family and then gunning down the surviving 7 year old kid. Uffdah!

Henry was reportedly uncomfortable with that scene - see why!

This gem has lines you'll use over and over again!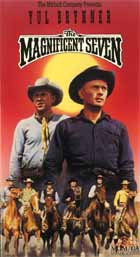 When you think of westerns - the theme song of The Magnificent Seven is prominent.

So is the flick.