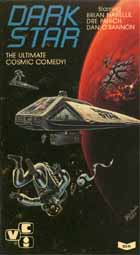 Directed by John Carpenter
60's hippies in far-out space...
...or spaced-out hippies far-out...
Their Mission:
To search out and destroy unstable planets. A very unstable film.
In the late 60's the Trinity film series was extremely popular. You need only watch the original "They Call Me Trinity" flick to enjoy the western satire.

The better film is "My Name Is Nobody" with Terence Hill (Trinity) and Henry Fonda.
Comedy - P.C. Film Corp - Jan 15, 1979 - United Entertainment
Comedy - Trinity Series - 3 Movie Collector Set - Quality Video, Inc. located in Minneapolis, MN.